Ha! I bet you weren't expecting me at this point. Honestly, I wasn't expecting me that much either. Especially when I had gotten halfway through the year, and I hadn't listened to any new popular music. Like none. Zero. Not even from the bands and artists I like. I just assumed that nobody would really care and that nobody would want to hear what some aging dude thought about popular music that just really wasn't for him. I started this yearly blog when I was unemployed and my friends who run Ranting Media gave me a break, and give me something to do. And I loved doing it! Seriously, not only did I discover so much great music outside of my comfort zone, but it made me express myself in a way I hadn't before, and it felt nice.
Then 2020 happens, and for me, I dealt with it by really doubling down on how much of a piece of shit I was or rather thought I was. Everybody has their own journey of mental health so I won't say mine is any different or more special than anybody else's. But I didn't really like myself, or anything else I used to like, which was weird, so I had to re-develop my tastes in movies, games, books, and of course music. If you look at my Spotify wrapped from 2020, I think I had only listened to like 16 hours of music which was abysmal, and not enough to put together a top 10 list. This is why last years was so half-assed and not well put together.
2021 came and some new positive changes happened. I left retail. My home for 17 years of my life ended, but not without a good reason. People were awful last year. Truly fucking awful. I have never been threatened by fellow human beings like I had been trying to enforce rules and policies that are designed to help my employees and my customers, but nobody seemingly wanted that. It was brutal. For somebody who has always said my belief is in the good of people, I was pretty misanthropic at that point. I'm not working in my dream industry that allows me to work while listening to music which is my happy place and makes me much, much more productive.
The biggest catalyst as to why I am writing this now, and coming up with this particular list, is I got medicated. I've had ADHD my entire life and have never been treated for it, but the pandemic really caused it to ramp up and I was unable to retain anything. I legit thought I had Alzheimer's. It's miserable when you know you're not dumb, but everyone around you thinks you are because you can't retain anything. Also, some stuff to deal with some mild depression (brought on from said ADHD), and not only do I feel better and motivated to write this list, but the biggest change is I feel like I found myself musically again.
If you know me, you know that my musical taste is… out there. To me, it's not weird one bit, but I understand it to be pretty niche. With that said. I truly embraced what makes me happy. I rediscovered metal.
OK, now that most have clicked off this blog, I realize that's pretty niche, and you know, I'm OK with that. I wanted clicks before and I wanted everyone to know how eclectic and hip my musical taste was, but it just came off as forced. Now that I legitimately feel better, I want to write about the stuff that makes me happy. Now, that's not to say that I won't be talking about the next Japanese Breakfast or Run the Jewels releases because those artists are so good, I think they transcend a genre, it just may not be as often.
So welcome to my Void, the tao if you will. Everything and nothing all at the same time. I want this to be a more regular blog that talks about whatever music I want to; from death metal to dungeon synth, to synth-wave, to ambient, to a new Carly Rae Jepsen release. This blog is for the people like me who grew up not belonging to a musical clique. Plus, I want to write more often. If I can make showing people new music a full-time job I would. I haven't felt this passionate about music in a long time, and even if nobody reads it, I know that I was sharing with you, the true me, and music, that I love.
Welcome to The Void of Ranting Media.
10) Cerebral Rot – Excretion of Mortality
If you follow me on Instagram, you may think that this was not my original number 10 and you'd be right. I originally had Hyperdontia's Hideous Entity which on a given day may still be in the 10 spot, but for right now and pretty much since I posted my list on Instagram, Cerebral Rot has got more of my attention. But please, go and listen to Hyperdontia's 2021 offering.
If you were to go into the woods of the Northeast, and you were met with a horrific demise, Cerebral rot would be most likely the perfect soundtrack for that bitter end. This album is pummeling, perfectly paced with enough thought-provoking riffage to make even the staunchest of death metal critics happy, but at the same time, those caveman death metal sensibilities are still prevalent. Not super crazy about the album artwork on this one, but this list isn't my top 10 pieces of album artwork (that would be a very different list.)
Overall, this is a great representation of where death metal is in the 2020s and why the genre as a whole is back with a vengeance.
9) Outre-Tombe – Abysse Mortifère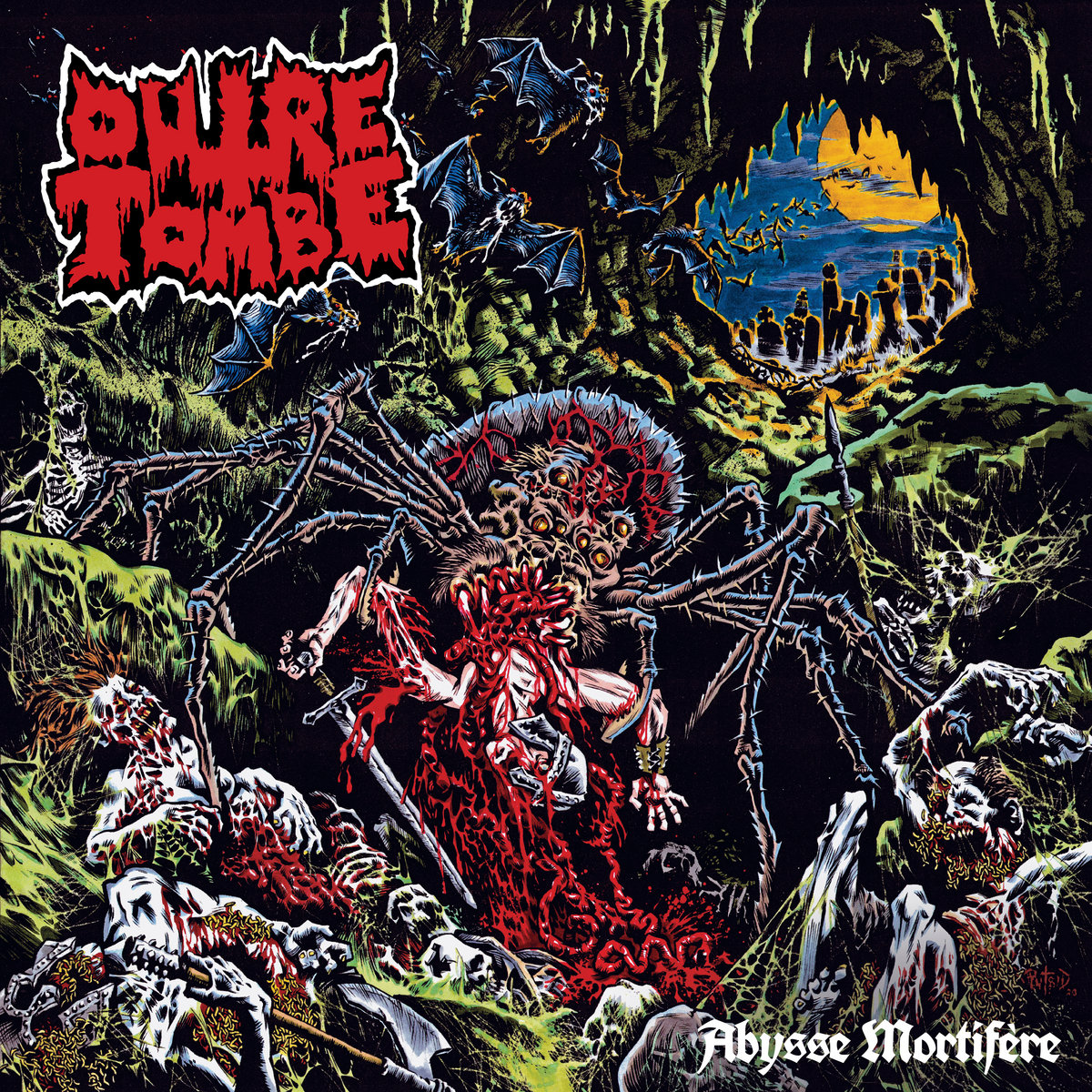 Contrary to the Cerebral Rot record, the reason I listened to this album in the first place was how awesome I loved the artwork. This is a rare instance of the album being as awesome as the artwork and matching up perfectly. The term Old School Death Metal (OSDM) gets thrown around so much, but this French Canadian quartet does it in a majorly inventive way by paying homage to their idols in a uniquely modern way. The vocals here won't be a modern death metal only fans dream for sure, but it has enough Autopsy-Esque painful yells to make a general fan of the genre very happy.
Just a caveat, the lyrics are all in French but who cares? You're listening to this for the awesome riffs shrouded in horror and cobwebs. Grab your denim vests and bullet belts, you'll need them.
8) Funeral Chant – Dawn of Annihilation
I've grown to really hate the term "blackened death metal". I just imagine some Nawlins style zydeco metal every time. Also blackened shrimp… anyway, this band does not make me think of shrimp. This band makes me think of pure evil goodness. So much so that when I ordered the tape for this release, it came with like a tooth of something… I'm not lying. I'm sure it's fake… I hope it's fake…
Anyway, this is definitely more along the lines of a thrashier black metal release than anything else. This album is fast, ferocious, and carnivorous. I'm not usually a fan of the more raw black metal stuff, but this has a lot more going for it than that. I would even show this to fans of punk music like old-school fans of The Unseen. Very good.
7) Inhuman Condition – Rat°God
Here it is, the absolute best album artwork of 2021. I kid… but not really, because this shit rules. Also, you have a band with former members of Massacre and the greatest death metal band of all time, Death! How could you not already love these guys before you even heard one riff?
Well, you're also in luck because the riffs crush. OSDM with a little bit of thrash thrown in for good measure really adds a dimension to the stellar landscape that already exists in this genre. They are doing things right not only musically, but release-wise as well. Several different ways you can consume this album. Digitally, physically with multiple pressings on vinyl, cassette, and CD. I think it's awesome that a refreshing band like this exists with so much legendary tenure.
Sadly I was supposed to go see Inhuman Condition live earlier in January and of course, covid swung the ax and it ended up getting canceled. But despite my heartbreak, you should give this punishingly fun album a listen.
6) Malignant Altar – Realms of Exquisite Morbidity
I love everything about this record. The production is incredible, the musicianship and vocals are almost perfect, the artwork is killer, and they are hometown boys! I get heavy Gateways of Annihilation era Morbid Angel vibes with a little bit of Bolt Thrower with the vocals thrown in the mix.
These guys have done it right by making their success all about the music. They take their existence very seriously and it comes across in spades with this release.
They are playing Maryland Death Fest this year and deservedly so. If you haven't jumped on this bullet train yet, do it now. These guys will be up there with Blood Incantation as far as heralding the underground death metal moniker very soon.
5) Every Time I Die – Radical
*sigh* I've been dreading this for a couple of reasons. Number 1, I assume most people have gone down the list stoked to see a list full of death metal, and then they hit a very popular metalcore band. Number 2, if you don't know, ETID broke up last week after over 20 years of great album after great album, and it appears to be a pretty messy breakup. Such a bummer.
I first heard ETID on a Hellfest DVD compilation I purchased at FYE. At that point I was pretty heavily into the Big 4 (Metallica, Slayer, Megadeth, and Anthrax) and not much else. I'm not sure what compelled me to buy this DVD at all really other than it was something called Hellfest. The song I heard was Logic of Crocodiles and it sounded so metallic and fast, and wild that I was blown away. I saw them later that year at Ozzfest 2004 and they freaking blew me away, and I knew then I wasn't strictly a metal kid anymore. Whatever this was, I loved it.
I've been a fan for nearly all of their existence and to see a band you literally grew up with, a band that has been with you through everything including a thousand shifts into what genre I was listening to that season, break up in the vein that they did, it's fucking heartbreaking.
I guess I should talk about the album. It's amazing. It's politically charged as only Keith Buckley could with his amazing lyrics, it's fas, it's heavy, it's fun, and it has the one and only ETID ballad, which also is incredible.
RIP ETID 1998 – 2021
4) SPECTRAL WOUND – A DIABOLIC THIRST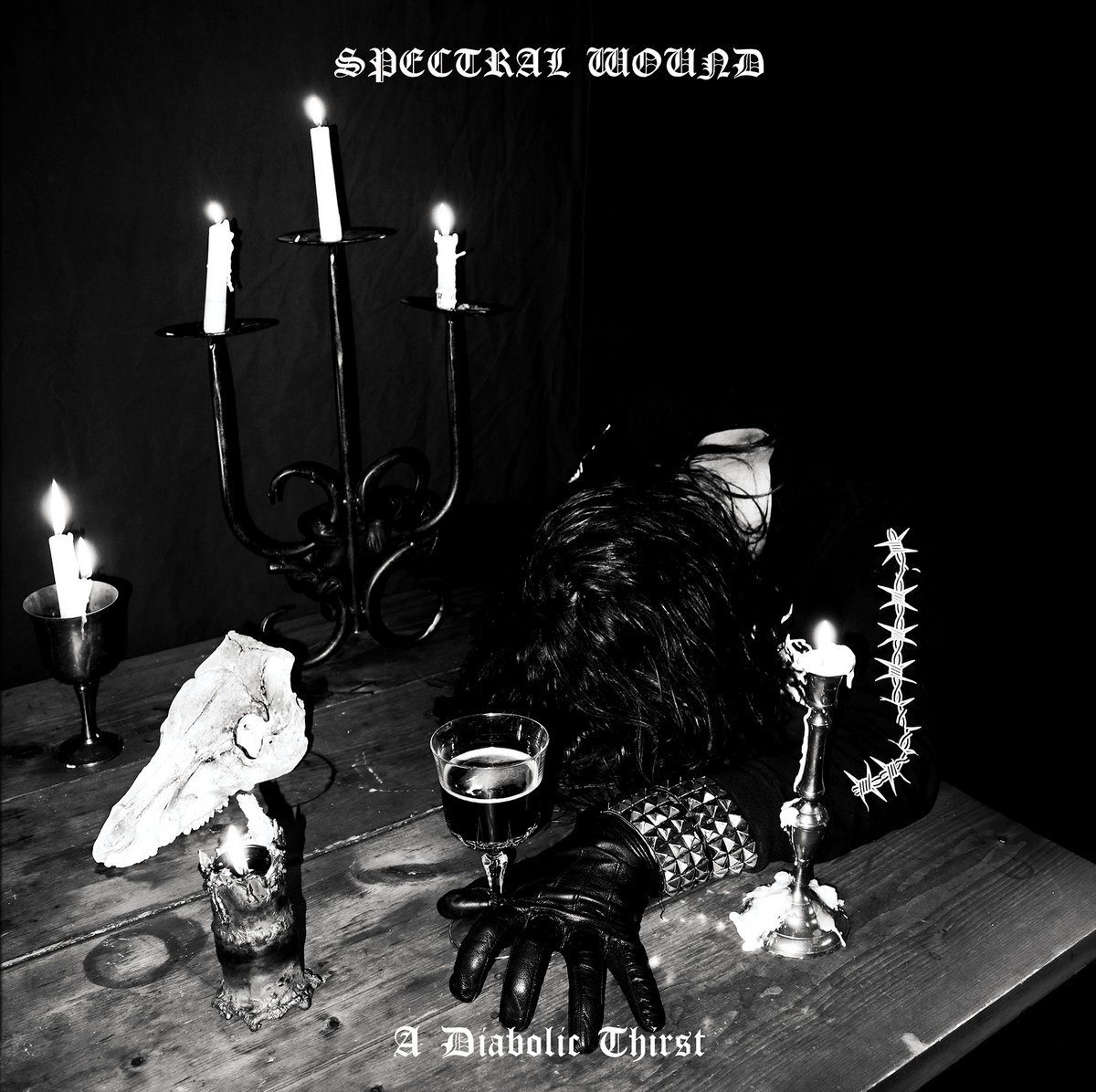 2021 was a really good year for metal, like a really good year. No matter what genre you seemingly align yourself with, there was something for everybody. Including black metal. Now, I love black metal. I make fun of it all the time, but I do still love it. The same goes for Power Metal. So much of it, these days seem to just be recycled Emperor or Immortal worship. But this crop of newer bands doesn't seemingly give a fuck about something being trve or kvlt. And are finally beginning to bend what traditional black metal can be. And I'm not talking about bands like Cradle of Filth, Dimmu Borgir, and all of the really theatrically inclined bands that have their roots in black metal, those bands are great at what they do, but I'm talking about performers like the amazingly romantic Këkht Aräkh with Pale Swordsman and of course Spectral Wound and A Diabolic Thirst.
A Diabolic Thirst did an absolutely perfect job with the basics, but they absolutely delivered a modern masterpiece that will be talked about forever in the same bane that we have talked about A Blaze in the Northern Sky or De Mysteriis Dom Sathanas. Melodic yet so raw with the traditional blizzard of freezing tundra as its landscape of sound. Death metal fans, stop being high and mighty and listen to this.
3) PANOPTICON – …AND AGAIN INTO THE LIGHT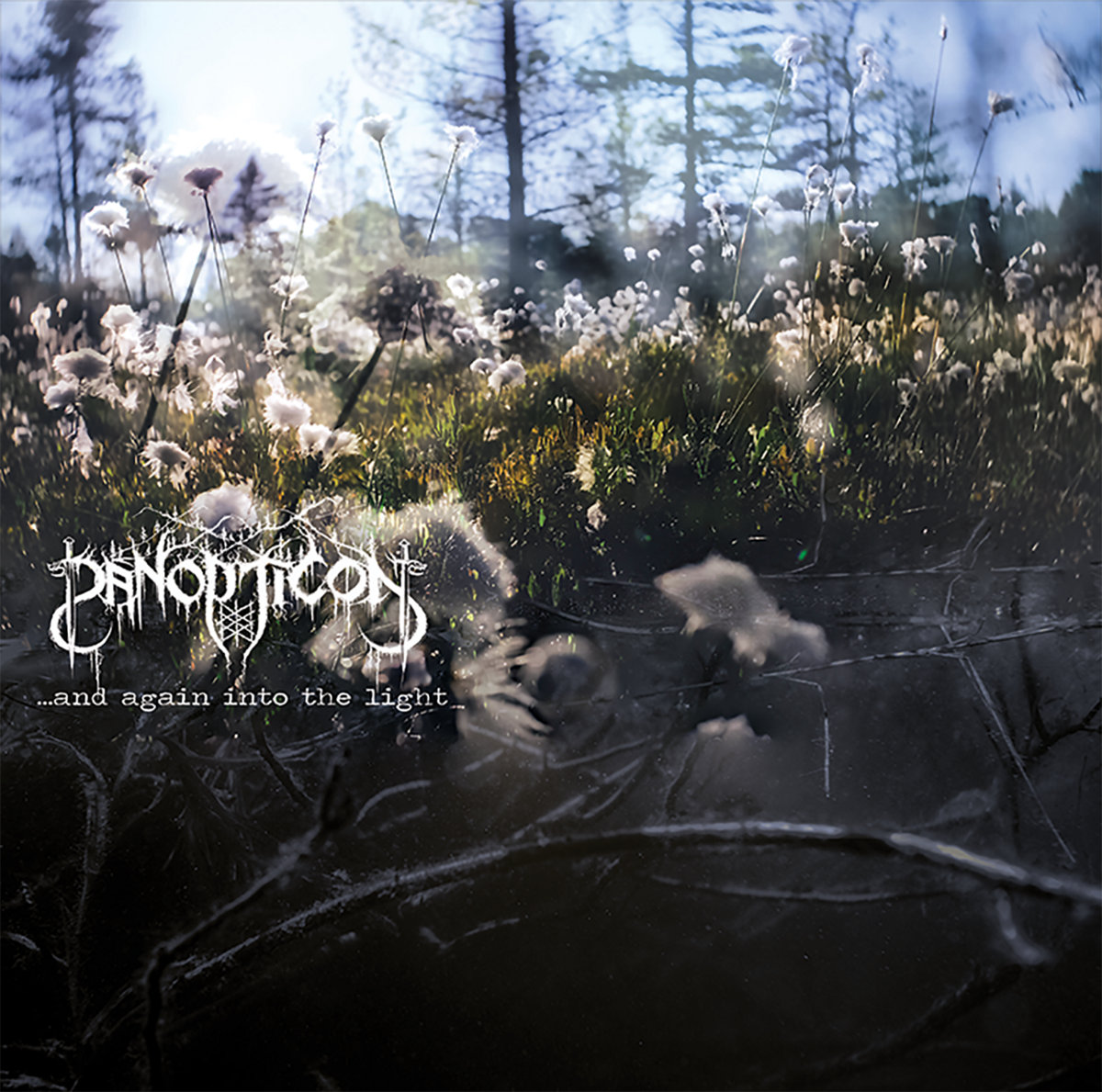 Atmospheric Black Metal, melodic black metal, Cascadian black metal. Whatever! This is good. This is really good. Austin Lunn the mastermind behind Panopticon released probably my favorite album of the 2010s with the 2015 release of Autumn Eternal. Since then, he's released a few good releases but nothing that even came close to Autumn Eternal, or even its two predecessors. But he nailed it with the release of …And Again into the Light.
This album is emotional, beautiful, overwhelming at times, and dynamically cacophonous. This album oozes an immaculate personality that you just want to keep getting to know. From its folkish and Americana beginnings down into the nitty-gritty of its blackened and evil roots. Maybe once the dust has settled by the end of this year, this will be my favorite, I don't know, time will tell, but this is how good 2021 was. This was number 3.
2) Worm – Foreverglade
WORM – Foreverglade (Full Album) 20 Buck Spin
Worm perplexes me quite a bit. I mean that in the best way possible. I've seen people call this album confused, and I don't think that it is confused at all. I think the mind behind Worm, Fantomslaughter, knew exactly what he was doing when he was putting this album together.
You look at this band and its imagery and think this is early 90's black metal worship with its use of colored and black and white xeroxed promotional photos, the use of corpse paint, and even some of the vocal stylings. Then you listen to it and you get this vibe of death metal and doom metal fighting for supremacy inside a swampy shroud of black metal. This album is unique, perfectly paced, and exactly true to its mastermind and that's what I love. Music that is honest not only in the music itself, but the presentation, and I love seeing how eclectic Worm is on all fronts.
HONORABLE MENTION: BEST DEMO/EP OF 2021
Infested – Grotesque Remains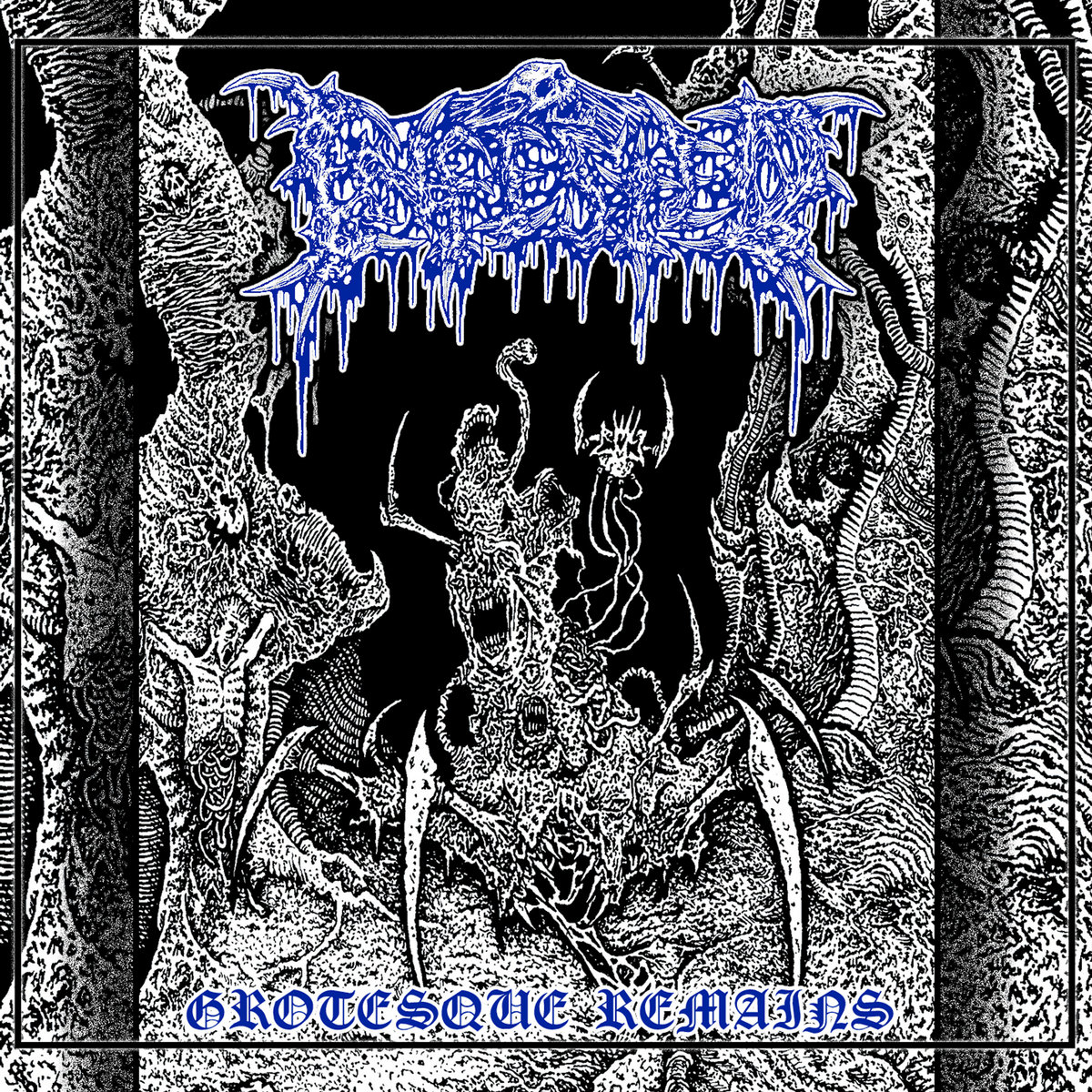 Want something quick, filthy, and slimy? Look no further than Los Angeles-based death metal band with their demo entitled Grotesque Remains. Infested really deliver on their very first outing and I cannot wait to see what brutal LP we get from them in the future.
1) Stormkeep – Tales of Othertime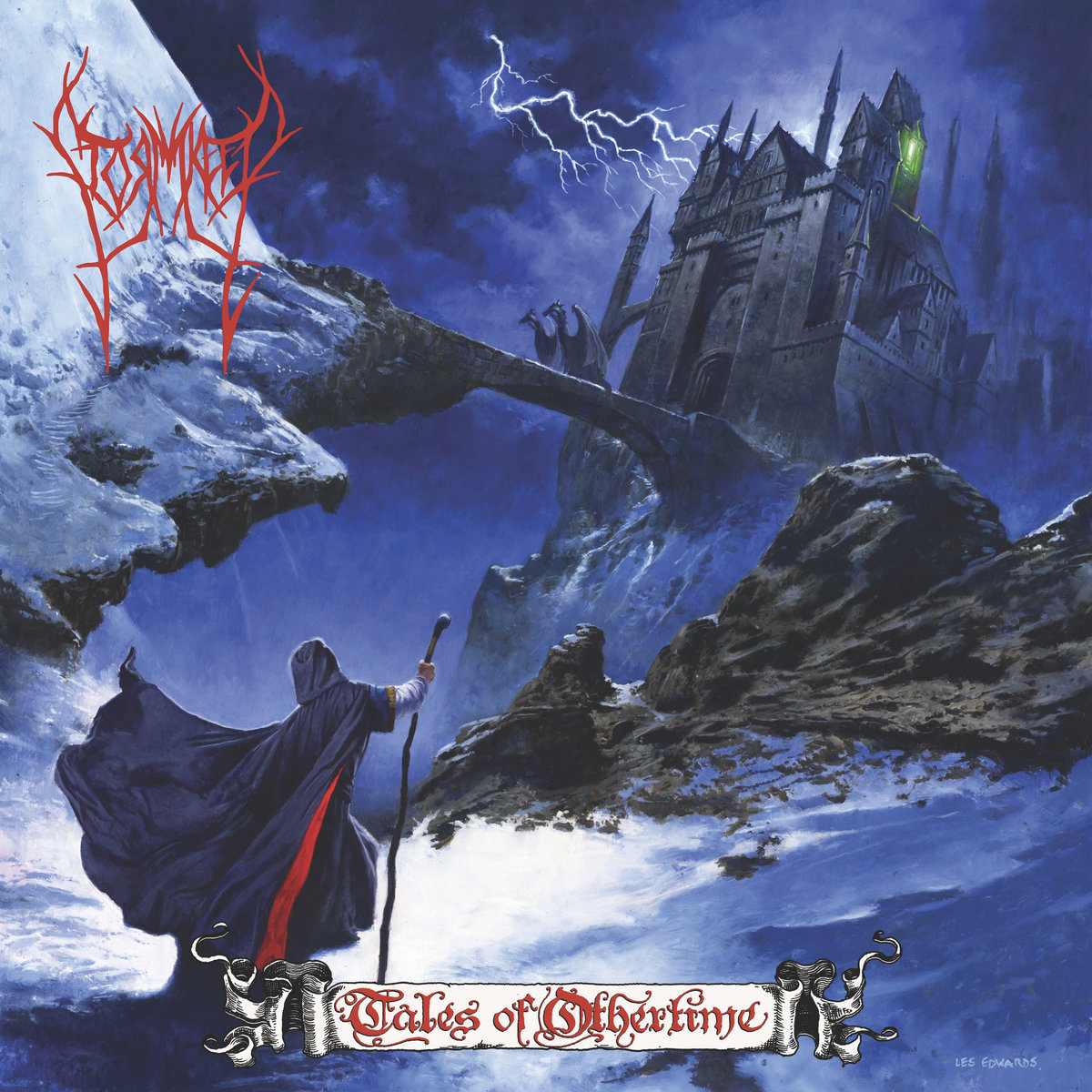 I adore everything, and I mean absolutely everything about this release. Seriously, the second I heard this album right when it came out in the middle of November I knew this was something special. I mentioned in my Spectral WOund blurb about it being an album people will talk about for a long time. Well, Tales of Othertime will be talked about forever.
The first thing you'll notice about this is the album artwork. Very early days of Castlevania and the horror and mystical side of DnD. And of course, you'll get that Bathory vibe with the blood on ice and Nightside era Emperor visual as well. The artwork blew me away because this aesthetic is everything to me. If you can be dark and evil in a fantasy hellscape, you've hooked me. The staunch different vocal stylings presented here to me seem to represent multiple characters weaving in their stories together. An Ode to Dragon's which is the instrumental introduction to the album's finale; Eternal Majesty Manifest might be the greatest intro of all time to a song. Wow. I get goosebumps when I think about it, and almost emotional when I hear it.
When you actually listen to the music you are instantly transported into the late '90s with this particular version of malevolent yet melodic black metal. You can tell that this is a passion project of the members of this supergroup. Doing minimal research you'll discover that most of the members are in Wayfarer with the vocalist being the drummer in fucking Blood Incantation! My favorite death metal band from the last 10 years. You even get Lord of the Rings vibes which in my opinion is a must when you talk about late 90's black metal like what I mentioned above and of course bands like Summoning and Windir.
OK, so you have amazing art, members with an amazing resumé making absolutely incredible melodic black metal. Something that hasn't existed in seemingly a decade. Like Wintersun but with a personality and without all of the fluff. I dare say this album is perfect. Even its interludes are something you'll want to listen to. After multiple listens to this album I literally googled music like its interludes and discovered the entire genre of dungeon synth. This is what black metal to me is. It'll for sure turn off the black metal purists but who cares. They are mostly nerds anyway, and not the cool kind of nerds.
This record makes me happy. All of these albums make me happy. That's the point of art right? Art of any kind. So please, take my list with a grain of salt, but please go out there and discover new music on your own. And support all of these artists on Bandcamp! Thank you so much and see you soon in the void.